Le réemploi des bouteilles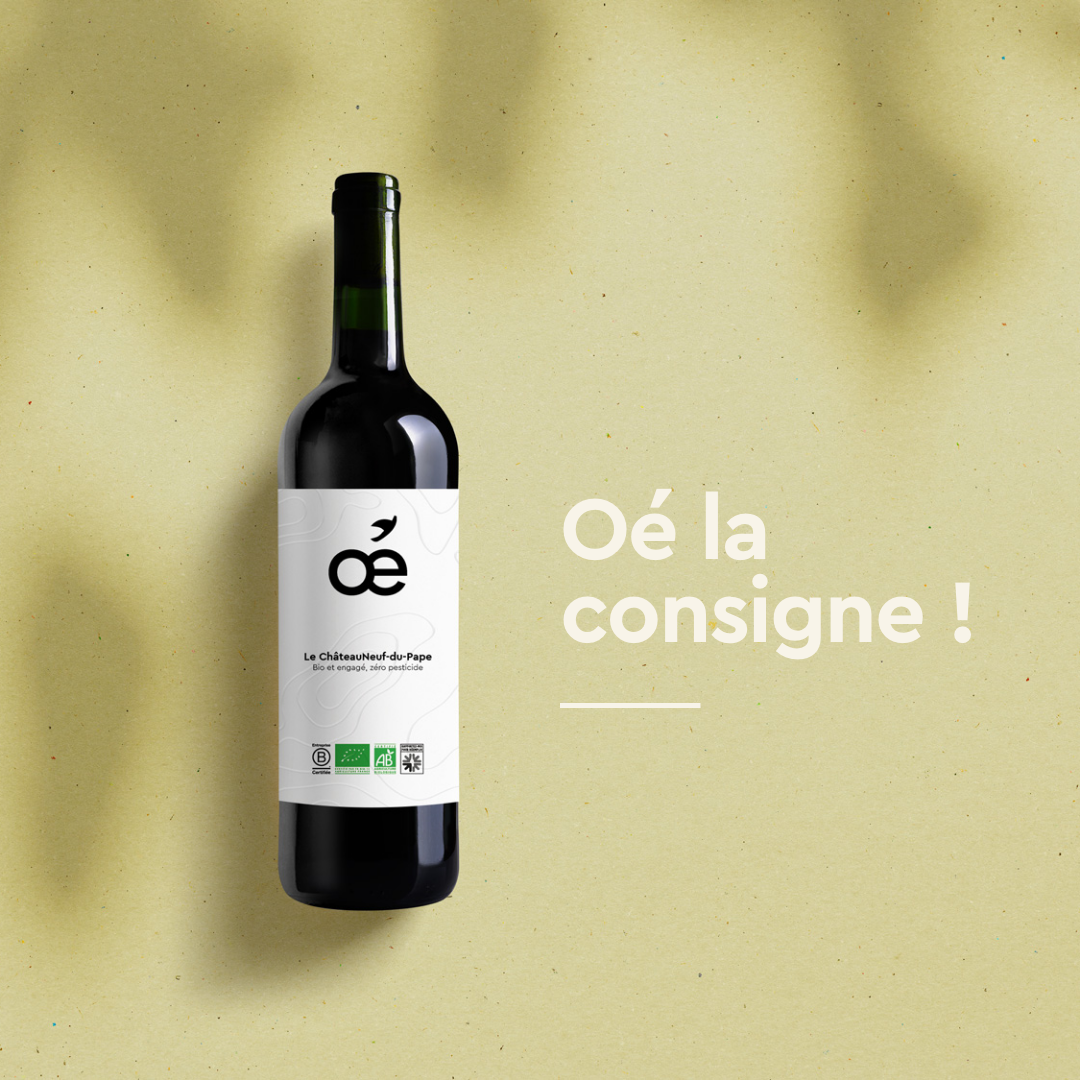 We were told "It's impossible" and yet… Oé is the first wine brand to reintroduce the reuse of bottles in France.
Topo. it was in the 1960s that the deposit in France stopped, faced with the lobbies of the glassmakers, the plastics industry and the rumors about the disposable being said to be more hygienic, economical and ecological than the reusable.
We were told it was impossible, and yet... 29,646 bottles were consigned between May 2022 and May 2023 to be rebottled and then put back on sale. Each bottle weighs 550g , i.e. 16.3 tons avoided thanks to reuse over this period.
It takes 921 liters to wash a reusable bottle (over its entire life cycle: between 20 and 50 washes) and 1370 liters to make a recyclable bottle. Knowing that according to ADEME, reuse saves 50% water compared to a recycled bottle. This allowed us to save 20,307,510 liters of water.
The reusable bottle emits 98 kg of CO2e (CO2 equivalent) compared to 474 kg of CO2e for the single-use bottle. From May 2022 to May 2023, 29,646 bottles were reused, and according to ADEME, reuse saves 79% of GHGs compared to a single-use bottle. We saved 11,101,241 kg of CO2.
Compared to a recycled bottle, reusing means:
Green bottles VS transparent bottles
The glass recycling system in France is quite efficient, but it involves kilometers traveled for the recovery of broken glass and ovens that run 24 hours a day at 1500°C to melt new bottles.
Also, a new bottle is made up of a maximum of 75% recycled glass for dark shades and 25% for transparent shades . It is the glassmakers who decide on the incorporation of raw materials in their productions. In any case, new cullet must necessarily be extracted and used to produce new glass products. Knowing that sand has just been declared an endangered resource.
Our racks are also consigned, which allows us to offer to send our partners the wines in zero waste wine pallets.
The deposit in France
Initiatives around reuse have been increasingly created in recent years. Either by ecological conviction, by constraint of supply of raw materials, or to meet the requirements of the AGEC law. It imposes a percentage of packaging reused by companies: 5% in 2023, 10% by 2027 and end of the marketing of single-use plastic by 2040.
Everything still needs to be put back in place: logistics flows, storage infrastructure and organization within the points of sale. These are new habits for everyone to adopt. We must redouble our efforts to raise awareness and facilitate implementation to ensure that reuse becomes the norm again!
The Consigne & France Consigne Network
The Storage Network Association was created in 2019. It brings together industrial washers, producers, distributors, printers, local authorities who work directly or indirectly for the reuse of containers in France.
It is this association that decides on the technical constraints and the standardization of the bottles. For example, our bottles are heavier (between 530 and 550g for Bordeaux wine bottles), and contain more raw materials. This makes them more resistant than conventional bottles and ensures 30 to 50 bottle washing and filling cycles. Cannon isn't it?
Why standardize reusable containers? Quite simply to be able to pool, consolidate and optimize rounds, economic and ecological gains. A bit like in sport, we win by playing together to make many things possible.
Today the Oé bottles:
- Are references validated by the Consigne Network
- Have a label made of recycled paper, vegetable ink and water-soluble glue, microperforated and with bird cutouts to facilitate water infiltration and peeling off during washing
- Are without capsule to avoid waste, and to remove a step during washing
When we know that the cap of a bottle weighs between 2 and 3 grams, that the wine market in France is estimated at 33 billion bottles per year, we can save 70,000 tons of waste just by removing it.
You sign with us the petition to remove the capsules?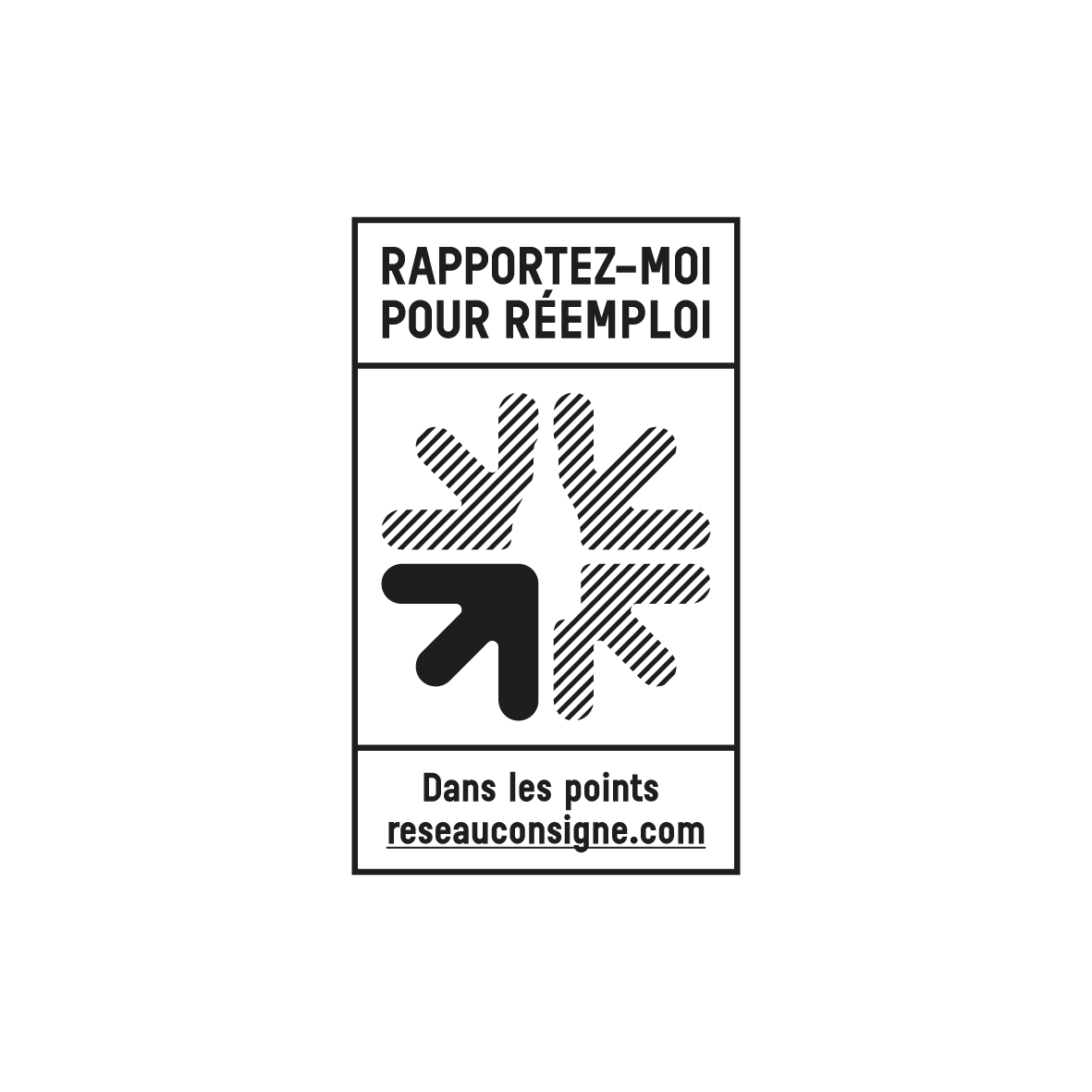 They accompany us in this wonderful adventure for the collection of containers: My Bottle is called Reviens, Bout' à Bout', Alpes Consigne, Rebooteille, Consign'Up...